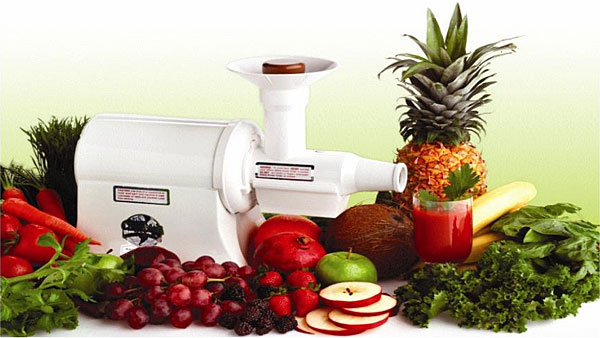 Champion 2000+ Juicer
Made in the USA since 1955 • The World's Finest!
$1765.70 including GST and delivery throughout New Zealand
New Zealand Distributor
Tasman Trading Company Limited
PO Box 7268, Mid Avenue, Wanganui 4541, New Zealand.
Phone: 06 34 55491
Thank you for the wonderful juicer.
We Love it!
Regards, Belinda, Auckland
TAP nature's bounty.
TASTE nature's goodness.

Use the Champion 2000+ Juicer to enhance your diet with a variety of fresh, great tasting fruit and vegetable juices:

Leafy greens and vegetable juice
Fruit juice
Melon and citrus juice

If variety is the spice of life, then our recipe book is, quite literally, just what the doctor ordered. Treat your taste buds to some of these sensations:

Fruit sauces and purees
Sorbets, sherbets and ice cream
Fruit smoothies
Dessert toppings
Baby foods
Nut butters

Our grain mill attachment goes even further, allowing you to quickly and easily prepare healthy, hearty whole grain ingredients:

Flour
Corn or soy meal
Ground coffee beans
Ground peppercorns

Bring the power and durability of a commercial juicer directly to your kitchen bench with the Champion 2000+. Manufactured by Plastaket Manufacturing Co, a family owned business that began producing the Champion in 1955.

Their passion for promising healthy living through the consumption of fresh fruits and vegetables extends over half a century. Since that time, Plastaket have continually refined and meticulously enhanced the capabilities of the Champion to extract every ounce of nutrition and flavour from fruits, vegetables and grains.

The optional Grain Mill (one colour) attaches without fuss to your Champion 2000+ and can be adjusted with ease to accommodate coffee beans, peppercorns and more. The Champion 2000+ is available in white and black with a 10 year limited warranty.